Here i am sharing the Latest Updates regarding 35% Increase on Running Basic Pay for Employees of Govt. of Punjab. The Punjab Government is set to bring some positive news for its employees as the Provincial Cabinet meeting scheduled for 22nd July 2023 includes discussions on increasing salaries for Punjab Government employees. With the new proposal, there is a hope that the hardworking employees of the Punjab Government will receive a well-deserved salary increase.
Chief Minister Punjab Mohsin Naqvi calls a cabinet meeting today in order to discuss the major subjects related to Muharram and other issues.
In Punjab Budget 2023-2024 The increase in ARA and pension of Punjab government employees is not satisfactory. It is not up to the mark of expectation of government employees. For this reason, they request the government of Punjab to increase their ARA and pension just like other provinces. Just like other provinces They demand in 35% increase in ARA on running Basic Pay. And a 17.5% increase in monthly pension. They also request to provide this increase on running a basic pay scale.
They request to take back the previous notification and issue a new one as per 35%. Because the current increase in salaries will implement from the first of July 2023. So the government employees demand for  35% increase and implement running basic pay.
Punjab Government employees have been eagerly waiting for the ARA 2023 update. The news of the proposed 35% increase has generated optimism among the employees, who hope for a better financial future.
Punjab Govt Employees ARA 2023 35% on Running Basic Pay Updates 22-07-2023
Newspaper News
As per the Daily Jang, the same news was published in the paper. The same is as under: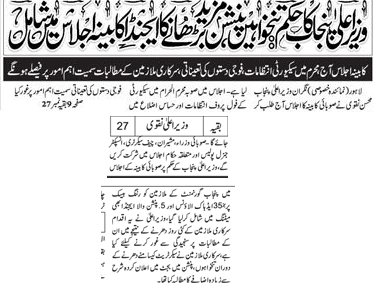 FAQs Keywords:
What is the ARA 2023 pay hike for Punjab Govt Employees?
When will the 35% Basic Pay increase be effective for Punjab Govt Employees?
How is the Running Basic Pay calculated for Punjab Govt Employees?
What are the updates on Punjab Govt Employees ARA 2023 pay scale?
Where can I find the latest news on Punjab Govt Employees salary hike?
Are there any allowances included in the ARA 2023 for Punjab Govt Employees?
Can you explain the salary chart for Punjab Govt Employees after ARA 2023?
What are the benefits of the 35% increase in Basic Pay for Punjab Govt Employees?
How does the ARA 2023 salary revision impact retired Punjab Govt Employees?
Are there any changes in the DA for Punjab Govt Employees with ARA 2023?